This summer has been one of festivals. Of meeting new friends and connecting with old ones; of discovering books and authors; of learning about the process and craft of writing. It's been a whirlwind and an inspiration.
This is something I would never ever have expected in the midst of a global pandemic, but my physical little bubble of two has been filled with unexpected company – by virtue of the many excellent virtual festivals to which I've tuned in.
All credit to the creative and practical organisers that have adapted, more or less overnight, traditional events into virtual ones. My head hurts, thinking about the technology involved, but the end result has given my (lockdown, working from home, home-schooling, summer break) days a very welcome spark of entertainment and learning – as writer and reader – that I would otherwise have missed out on.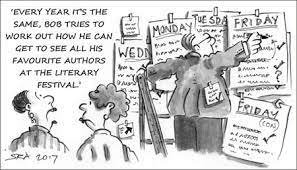 The Jericho Writers Summer Festival of Writing has – literally – kept me on track! With an event almost daily since June, it's given me reason to check what day I'm waking up to. It has also taught me so much: that the novel I'm currently plotting seems along the right lines; that the synopses of the first two were dire…and are now reworked!
The Primadonna Festival; the Theakston Old Peculiar Crime Writing Festival; the Edinburgh International Book Festival; the Islay Book Festival…I've listened to panels, taken part in webinars, heard readings – and probably missed a hundred other events, all over the country, that I'll seek out on replay and in interviews. And there are still more, like the great Bloody Scotland, to come.
So, thank you to everyone who has somehow made all this possible, and very often totally free of charge. I've loved every minute.
(Originally published on www.writerightediting.co.uk)